small iced cake: a small individual iced cake, baked in a paper or foil cup or in a cup-shaped mold
------------------------------------------------------------------------------------------------------------------------
Hi everyone, I am so excited that I get to share my news today! Bonnie, from
Really Reasonable Ribbon
has asked me to be their month long Guest Designer!!
Yay
, for the
entire month of July
I am going to devote myself to using ribbon from the
Really Reasonable store
! That's 31 days of ribbon!!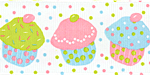 I took an empty ribbon spool, removed one end and cut the other end to be flush with the roll, ( sanded any rough edges ) and then inked all the edges. Then I adhered the ribbon to the spool, perfect fit! My next part is a favorite of mine, which is embellishing the ribbon! I added stickles to the small dots and gemstones to the cupcakes! It is a sparkly pastel perfection!
Ranger - stickles: Waterfall, Fruit Punch, and Firefly
gems: My Minds Eye and Creative Imagination
ink: Brilliance, Pearlescene Sky Blue
I added more ribbon to the inside of the cup, to give it a pretty look even when the cupcake has been removed and eaten! I also added a matching circle cut from my Cricut using the Happy Hauntings cartridge. ( It just happens to have a circle on the cartridge, lol ) I used the Cricut Craftroom to get the exact size cut I needed to fit into the bottom of the cup. ( Cricut Craftroom is FREE )
bottom size: 2.85"
inside bottom of cup: 2.75"
paper: DCWV Shimmer Stack
To make it even more special I added a small pedestal for the cupcake by taking a glass fruit cup dish and turning it upside down and then setting the cupcake on top.
I added a cupcake wrapper, wrapped it with Saran Wrap ( that way the holder doesn't get icing on it and can be reused ) and cinched the top with a twist tie. Then using the
Bow Easy Tool
I finished the top off with a perfectly, easy bow which I glued on with my hot glue gun!
And to complete the birthday presentation I tied a ribbon to the the base and hot glued a flower to it.
flower: Maya Road
And voila, you have a wonderful, cute, especially made Birthday Cupcake presentation!
I have trully enjoyed being in the
Really Reasonable Monthly Club
. At the begining of each month you get a packet of ribbon designed for whatever holiday or season that will be coming up in the next month. Which means you are
always ready
to start any project
well in advance
! I LOVE that.
This is what the July Club Assortment looks like: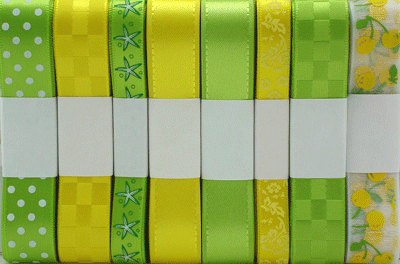 Beautiful, isn't it? Just perfect for summer projects, cards and lay outs!
And who doesn't like getting something in the mail each month?
-----------------------------------------------------------------------------------------------------------
Don't forget, Project Pinterest for the month of July will post on July 9th!